COTNACT US
Miss Yumi Lee
Tel: +86-15850598561
Mail: yumi@oftbelt.com
Mr.Daniel Y
TEL:+86 15365013387
Mail: daniel@oftbelt.com
Ms.Vicky Wong
TEL:+86 15850551428
Mail: vicky@oftbelt.com
FAX:+86 25 58276827
Products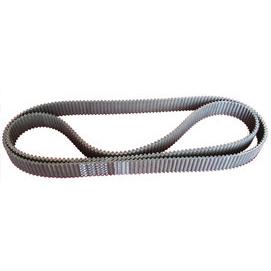 Features:
• Two-sided tooth timing belt is applicable to the industrial fields which require reversibility.
• Nylon canvas tooth surface of both sides provide the balanced load capacity.
• It features high strength, good elasticity, and high tensile stress.
• It is resistant to dirt, oil and moisture.
• Compared with the chain, it is quieter and maintenance-free, and without the need for re-tensioning.
Materials:
• Chloroprene rubber or polyurethane material
• Kevlar or fiberglass framework
•Nylon canvas tooth surface
Application: It is applicable to the industrious fields need reversibility.
型号
Type

节距 (mm)
Pb

带厚 (mm)
Ht

材质
Material

皮带长度
Length

DXL

5.08

3.05

橡胶(Rubber)

304.8mm~ 4318mm

DL

9.525

4.57

DH

12.7

5.95

TP5M

5

5.258

橡胶(Rubber)

385mm~ 6860mm

TP8M

8

8.28

TP14M

14

14.834

TP8MGT

8

8.28

橡胶(Rubber)

1190mm~ 6860mm

TP14MGT

14

14.834