COTNACT US
Miss Yumi Lee
Tel: +86-15850598561
Mail: yumi@oftbelt.com
Mr.Daniel Y
TEL:+86 15365013387
Mail: daniel@oftbelt.com
Ms.Vicky Wong
TEL:+86 15850551428
Mail: vicky@oftbelt.com
FAX:+86 25 58276827
Products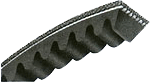 The Automotive V-belt includes raw edge v-belt and wrapped v-belt by structure. Ophte produced v-belts has an excellent tension and low stretch, together with accurate section and size, it is quiet working to a high degree when it comes to rotating alternators, water pumps and air conditioning compress.
benefits:
◆ High wear resistance
◆ Long life
◆ High efficiency
◆ Excellent anti-oil, anti-heat, and anti-abrasion
◆ Excellent tension behavior
Note: Our company possess more than 1000 sets moulds to cover all types auto v belts used for vehicles.
The Effective Length range is 500 mm~3000 mm