COTNACT US
Miss Yumi Lee
Tel: +86-15850598561
Mail: yumi@oftbelt.com
Mr.Daniel Y
TEL:+86 15365013387
Mail: daniel@oftbelt.com
Ms.Vicky Wong
TEL:+86 15850551428
Mail: vicky@oftbelt.com
FAX:+86 25 58276827
Products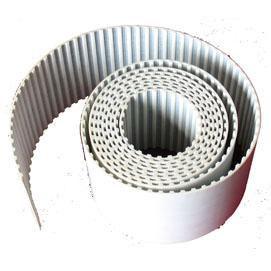 Features:
• It has good positioning driving capability
• It reduces noise and improves transmission power.
• It has high-toughness and anti tensile force
• It can absorb load and withstand extremely high loads.
• It is Oil resistant and applicable to wet environment.
•It is simple to maintain and easy to operate.
Materials:
•Chloroprene rubber or PU material
• Framework of fiberglass/Kevlar/or steel cord
• Nylon canvas tooth surface
Application: it is applicable to Linear transmission field, precise positioning and transportation industry and other fields.
型号
Type

节距 (mm)
PB

齿高 (mm)
Ht

带厚 (mm)
Hs

齿形
Tooth shape

材质
Material

XL-LL

5.08

1.27

2.3

梯形齿
Trapezoid shape tooth

橡胶 或
聚氨酯
Rubber or PU

L-LL

9.525

1.91

3.5

H-LL

12.7

2.29

4

3M-LL

3

1.17

2.41

圆弧齿
Arc shape tooth

5M-LL

5

2.08

3.81

8M-LL

8

3.4

6

14M-LL

14

6

10

8MGT-LL

8

3.4

5.9

圆弧齿
Arc shape tooth

14MGT-LL

14

6

10.2